AIB Insights is an AIB publication that provides an outlet for short, interesting, topical, current, and thought provoking articles. AIB Insights is published four times a year with the AIB Newsletter. For additional information, please see the
AIB Insights Editorial Policy
.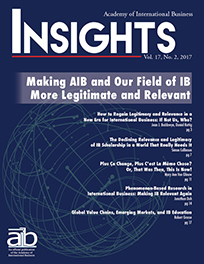 Table of Contents – Volume 17 Issue 2 (2017)
This special issue on "Making AIB and Our Field of IB More Legitimate and Relevant " publishes a set of articles which discuss and analyze how we, as members of the AIB, can contribute to reversing this trend and making our IB field more legitimate and relevant again.
We encourage you to join the discussion by commenting below.
---