AIB Insights is an AIB publication that provides an outlet for short, interesting, topical, current, and thought provoking articles. AIB Insights is published four times a year with the AIB Newsletter. For additional information, please see the
AIB Insights Editorial Policy
.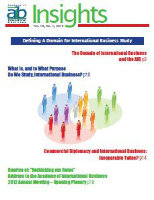 Table of Contents – Volume 13 Issue 1 (2013)
Special Issue in the Domain of IB. On this issue, you will find alternative perspectives from distinguished contributors. We plan to have a workshop in Istanbul to discuss this critical topic.
We encourage you to join the discussion by commenting below.
---