AIB Insights is an AIB publication that provides an outlet for short, interesting, topical, current, and thought provoking articles. AIB Insights is published four times a year with the AIB Newsletter. For additional information, please see the
AIB Insights Editorial Policy
.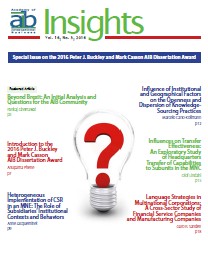 Table of Contents – Volume 16 Issue 3 (2016)
A special issue dedicated to the 2016 Buckley and Casson AIB Dissertation Award, drawing attention to the innovative dissertation research of this year's award finalists. The issue also includes a Featured Article with initial analysis on Brexit.
We encourage you to join the discussion by commenting below.
---