AIB Insights is an AIB publication that provides an outlet for short, interesting, topical, current, and thought provoking articles. AIB Insights is published four times a year with the AIB Newsletter. For additional information, please see the
AIB Insights Editorial Policy
.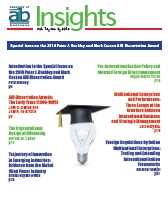 Table of Contents – Volume 14 Issue 3 (2014)
A special issue dedicated to the 2014 Buckley and Casson AIB Dissertation Award, recognizing the history of the award and drawing attention to the innovative dissertation research of this year's award finalists.
We encourage you to join the discussion by commenting below.
---