AIB Insights is an AIB publication that provides an outlet for short, interesting, topical, current, and thought provoking articles. AIB Insights is published four times a year with the AIB Newsletter. For additional information, please see the
AIB Insights Editorial Policy
.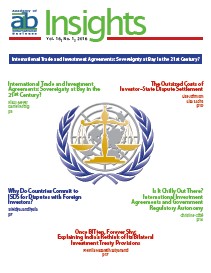 Table of Contents – Volume 16 Issue 1 (2016)
This focused issue, co-edited by Klaus Meyer, Guest Editor, provides a discussion of the controversies surrounding the investor-state dispute settlement (ISDS) system in the context of recent international trade and investment agreements, and its implications for the sovereignty of nation-states in the 21st century.
We encourage you to join the discussion by commenting below.
---