AIB Fellow - G. Tomas M. Hult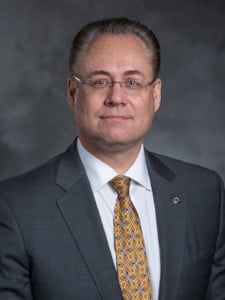 Dr. Tomas Hult is Professor, Byington Endowed Chair, and Director of the International Business Center in the Eli Broad College of Business at Michigan State University. A dual citizen of Sweden and the U.S., he is also Executive Director of the Academy of International Business (AIB), President and Board Member of the Sheth Foundation, and serves on the U.S. District Export Council. Tomas Hult hosts the radio show globalEDGE Business Beat on the Michigan Business Network.
Hult is one of the world's leading academic authorities (citations, publications) in international business, marketing strategy, and supply chain management. He is one of only about 100 Elected Fellows of the Academy of International Business, an accolade achieved by only the elite international business scholars. Professor Hult was also selected the Academy of Marketing Science Distinguished Marketing Educator as the 2016 top marketing professor in the world for scholarly career achievements.
Professor Hult regularly speaks at high profile global events (e.g., UNCTAD, World Investment Forum, Swedish Entrepreneurship Forum, US Department of Education, European Commission) and publishes topical international trade op-ed articles (e.g., Time, Fortune, The Hill, World Economic Forum, The Conversation). He is a member of the World Economic Forum's Expert Network and is a coauthor with Charles W. L. Hill of the market-share leading textbooks in international business (Global Business Today, International Business).
Last Updated: February 2019