AIB Fellow - Fadi Ali Ghandour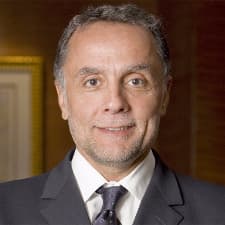 Fadi Ali Ghandour, a serial entrepreneur, CEO and investor. Passionate about creating impact through entrepreneurship, youth empowerment, community development, technology, innovation, and education. His keen interest in these issues has always shaped how he establishes and runs his businesses, initiatives and different platforms in this world.
After graduating from George Washington University in 1982, Ghandour founded Aramex that eventually became the leading emerging markets small parcel logistics company and a global brand, it was also the first company from the Arab region to go public on NASDAQ in 1997. Ghandour then took the company private and re-listed it with Abraaj Group, on the Dubai Financial market. In 2012, Ghandour stepped down as CEO of Aramex.
Since the beginnings of his professional journey, Fadi was keen that his commitment to certain values and beliefs goes in parallel with how business interacts with the communities it exists in, believing that the wellbeing of companies has to be part of the wellbeing of society.
Being a strong advocate of a more public-spirited and decisive presence for the Arab private sector in the sustainable development of the region, Fadi mobilized Aramex and brought together a group of likeminded businessmen with the singular aim of deploying entrepreneurship, resources, capabilities and skills- to engage in the process of youth development in marginalized communities, this is when Fadi founded Ruwwad in 2005.
Ruwwad for Development, a private-sector led community empowerment initiative that helps disadvantaged communities across the region overcome marginalization through activism, civic engagement, education and financial inclusion with support from the Ruwwad Micro Venture Fund, an equity-based fund providing seed capital and support for microbusinesses and micro-entrepreneurs.
As an investor and mentor to start-ups, Fadi was the founding partner in "Maktoob.com", the world's largest Arab On-Line community back in 1996 which was at the forefront of the early internet adoption in the Arab region. Maktoob eventually was acquired by Yahoo!, in the first large tech exit in the Arab World, and was at the core of the current digital revolution in the region.
In the latest phase of his entrepreneurship journey Ghandour co-founded with Arif Naqvi and Abraaj, Wamda Group which is one of the most extensive entrepreneurship support networks across MENA region. Wamda today, has a media platform, telling stories of the digital age in the region, it also has a research arm, an extensive mentorship program called Mix N' Mentor, and an initiative called collaborative entrepreneurship bringing corporates to work with startups, among many other initiatives. Along the way Fadi and Arif Naqvi, launched Mena Venture Investments the leading angel investing fund in MENA, investing in over 90 companies.
In 2015, Fadi and a few of young venture enthusiasts, launched Wamda Capital, a Venture capital fund that invests in early and growth stage technology and technology-enabled companies in MENA. With anchor investors like the IFC, Abraaj Group, Zain Group, and other leading institutional and family Investors. Fadi is a member of the Board of Abraaj Capital, of Endeavor Global, of the Board of Trustees at the American University of Beirut (AUB) and of the Advisory Council of the MIT Media Lab.
Last Updated: August 2017