AIB Fellow - Ram Mudambi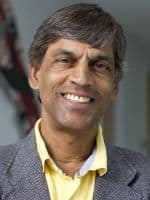 Ram Mudambi is Professor and Perelman Senior Research Fellow at the Fox School of Business, Temple University. Previously he served on the faculties of Case Western Reserve University, the University of Reading (UK) and the University of North Carolina – Chapel Hill. He is a visiting Professor at Henley Business School, University of Reading, an Honorary Professor at the Center of International Business, University of Leeds (CIBUL) and a member of advisory council of the University of Bradford Centre in International Business (BCIB). He has served as a Visiting Professor at Copenhagen Business School (Denmark), Bocconi University (Italy), Uppsala University (Sweden) and the University of Sydney (Australia). He holds a Master's degree from the London School of Economics and a Ph.D. from Cornell University.
His current research projects focus on the geography of innovation and governance in knowledge-intensive firms. His research is at the intersection of international business and economic geography. He has published over 80 peer-reviewed articles, including work in the Journal of Political Economy, the Journal of Economic Geography, the Strategic Management Journal, the Journal of International Business Studies and Research Policy. He is an Associate Editor of the Global Strategy Journal published by the Strategic Management Society and the Book Review Editor of the Journal of International Business Studies. He also serves on the boards of the Journal of International Business Studies, the Journal of World Business, Management International Review, Multinational Business Review, Industry and Innovation and the Journal of International Management.
He has served the AIB in numerous capacities: as Junior Faculty Consortium Chair for AIB 2008 (Milan), Track Chair for the AIB 2009 (San Diego), AIB 2011 (Nagoya), and AIB 2012 (Washington DC). In addition he has held numerous administrative positions at the Fox School of Business at Temple University, including department chair.
Last Updated: July 2012