AIB Fellow - Farok J. Contractor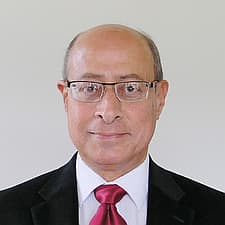 Dr. Farok Contractor is Distinguished Professor in the Management and Global Business department at Rutgers Business School. He has taught at the graduate level and conducted executive seminars in the US, Europe, Latin America and Asia. He is a graduate of the Wharton School, University of Pennsylvania, where he received his Ph.D. and MBA, the University of Michigan, where he received an M.S. in Industrial Engineering and the University of Bombay where he received a B.S. in Mechanical Engineering.
Farok's research has focused on foreign direct investment, in particular the negotiated, inter-firm aspects of International Business such as alliances including joint ventures, licensing and negotiations between investors and governments. Also on the knowledge transfer process, financing, negotiations, setting a price on technology, and the strategic implications of companies sharing their expertise and markets with other firms. Other publications treat outsourcing and offshoring, emerging markets, paradigms for the international expansion process and the link between internationalization and performance, government policies towards foreign investment, and valuation of intangible assets. Dr. Contractor has written over one hundred scholarly papers on these topics, and ten authored or edited books, and has been rated by several surveys as among the top-ranked contributors of scholarly papers to the field.
Further details may be found at:
Short c.v.: http://www.business.rutgers.edu/sites/default/files/documents/faculty/cv-farok-contractor-short.pdf
Long c.v.: http://www.business.rutgers.edu/sites/default/files/documents/faculty/cv-farok-contractor-long.pdf
Global Business Blog (Erudite, unbiased commentaries and analyses on International Business): http://globalbusiness.blog
Dr. Contractor has served on the Executive Board of the Academy of Management's International Management Division, has served on the Executive Board of the AIB, and has also held other term fellowships such as the Fulbright Fellowship and Unilever Fellowship.
Among the conferences organized by Dr. Contractor, two in particular had a catalytic influence on the field of Alliances and Cooperative Strategies. The first was the Rutgers/Wharton Conference on Cooperative Strategies in International Business, and a follow up conference, Cooperative Strategies and Alliances in Lausanne, Switzerland.
At Rutgers he has chaired or been on the supervisory committees of 18 doctoral dissertations on International Strategic Management topics, been Department Chair for the International Business Department, Research Director of the CIBER, Coordinator of the Ph.D. program in International Business, the Dean's Leadership Council, International Study Program and other key school and university initiatives.
Dr. Contractor's interests include canoeing, skiing, trekking, history and restoring antiques.
Last Updated: February 2019