AIB Fellow - Seung Ho Park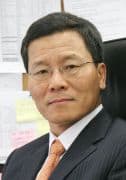 Dr. Park is Parkland Chair Professor of Strategy and Director of Centre for Emerging Market Studies at China Europe International Business School. He was the Managing Director of SKOLKOVO-Ernst & Young Institute for Emerging Market Studies and Chair Professor of Strategy at Moscow School of Management Skolkovo. He was the founding president of Samsung Economic Research Institute China. He began his academic career at Rutgers University where he had early promotions to associate and full professor. He received the IM Division Outstanding Service to the Global Community Award (Academy of Management, 2015) for his outstanding service to the international community bridging research, practice, and policy communities in his work on emerging markets.
Dr. Park's research has been published in leading management journals, including Academy of Management Journal, Academy of Management Review, Strategic Management Journal, Management Science, Journal of International Business Studies, Sloan Management Review, and Organization Science, among others. His studies have been broadly cited in the areas of strategic alliances, joint ventures, and emerging market strategies. His current research focuses on the competitive and growth strategies, competitive dynamics between MNCs and local companies, and roles and responsibilities of MNCs in emerging markets. His recent books on emerging markets include the award-winning book Rough Diamonds: Four Traits of Successful Breakout Enterprises in BRIC Countries (Jossey-Bass, 2013), Scaling the Tail: Managing Profitable Growth in Emerging Markets (Palgrave McMillan, 2015), Managing Emerging Multinationals: Solving International Challenges (Cambridge University Press, 2016), and ASEAN Champions: Emerging Stalwarts in Regional Integration (Cambridge University Press, 2017). He is also a frequent contributor to international media, including Financial Times and Forbes.
Dr. Park has served on the editorial boards of Academy of Management Journal, Journal of International Business Studies, Strategic Management Journal, and Global Strategy Journal. He is Associate Editor of Cross Cultural Management and serves on the Advisory Board of Management and Organization Review and International Journal of Emerging Markets. He was a member of the Executive Committee, Program Chair, and Chair of International Management Division of Academy of Management and the co-founding President of the Association for Korean Management Scholars. He has an extensive experience in corporate consulting and training and is also a frequent speaker in corporate meetings and international forums.
Last Updated: July 2016