AIB Fellow - Johny Johansson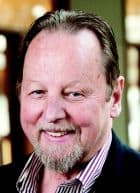 Johny K. Johansson is the McCrane/Shaker Professor of International Business and Marketing, McDonough School of Business, Georgetown University, where he specializes in international marketing strategy and global branding. Before joining Georgetown in 1989, Dr. Johansson held faculty positions at University of Illinois and University of Washington, Seattle. He also has held visiting professorships at a number of international institutions. He was Isetan Professor at Keio Business School in Japan 1985, FordWerke Professor at University of Cologne in Germany in 1988, and most recently Coca Cola Visiting Professor at American University in Beirut (AUB) in Lebanon. In 2010 he was given a Lifetime Achievement award for contributions to global marketing from the American Marketing Association.
Dr. Johansson is the author of Global Marketing, McGraw-Hill/Irwin (5th ed. 2009), Chinese edition in 2003; co-author with Ikujiro Nonaka of Relentless: The Japanese Way of Marketing, Harper-Business, 1996 (with seven translations); and author of In Your Face: How American Marketing Excess Fuels Anti-Americanism, Financial Times/Prentice Hall, 2004. He has published over 70 articles in a wide variety of academic journals, including Journal of International Business Studies, Journal of Marketing, Journal of Marketing Research, Academy of Management Review, Harvard Business Review, Journal of the American Statistical Association and Psychometrika. He has presented papers and conducted seminars at academic institutions worldwide including Stanford, INSEAD, IIM Ahmedabad, Koc University and Hitotsubashi. He has also conducted executive seminars and workshops in many countries, including Japan, Germany, Sweden, China, Thailand and India, and consulted for a number of multinational companies, including Standard Oil of Indiana, General Electric, Honda, GTE, Harris Interactive and Electrolux.
A native of Sweden, Dr. Johansson is a graduate of the Stockholm School of Economics and has MBA and PhD degrees from University of California at Berkeley, where he studied econometrics and marketing.
Last Updated: April 2011