AIB Fellow - Srilata Zaheer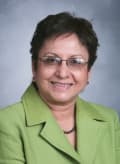 Srilata Zaheer (Sri) is Dean of University of Minnesota's Carlson School of Management, and holds the Elmer L. Andersen Chair in Global Corporate Social Responsibility. Sri received a Ph.D. from the Sloan School of Management, MIT, and an MBA from the Indian Institute of Management, Ahmedabad. Sri's research focuses on the legitimacy of multinational enterprises and the liability of foreignness, and on the influence of technology on international organization. She also has a strong interest in spatial and temporal phenomena in international management.
Sri served as the Division Chair of the International Management Division, Academy of Management in 2002, and as Reviewing and Consulting Editor for the Journal of International Business Studies until 2011. She is a founding member of the Academic Council of the Indian School of Business in Hyderabad, India. Sri has taught courses in international management in MBA and executive programs in the US, China, Poland, Brazil and India. Before she discovered academics, Sri worked for major MNCs, including Sandoz and the Tatas. She has also worked as the Nigerian correspondent for Business International.
Sri has published extensively in major journals such as the Academy of Management Review, Academy of Management Journal, Strategic Management Journal, Journal of International Business Studies, Management Science and Organization Science. Sri's recent publications include "Wall Street versus Main Street: Firm Strategies for defending legitimacy and their impact on different stakeholders," (with A. Lamin) Organization Science (2012); "Cluster capabilities or ethnic ties? Location choice by foreign and domestic entrants in the services offshoring industry in India" (with A. Lamin and M. Subramani) Journal of International Business Studies (2009), and "Does it Matter Where Countries Are? Proximity to knowledge, markets and resources and MNE location choices" (with L. Nachum and S. Gross) Management Science, (2008).
Research honors include an NSF grant in 2001, the Eldridge Haynes Award from AIB for "the best interdisciplinary work in International Business" in 1994, and awards for best dissertation in 1992 from AIB and from the IM Division of the Academy of Management.
Sri serves on the boards of Mayo Clinic's Economic Development Agency for Rochester, MN and the Guthrie Theater in Minneapolis.
Last Updated: December 2014