AIB Fellow - Sri Zaheer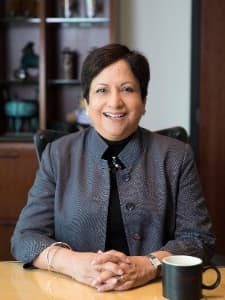 Srilata Zaheer (Sri) became the 12th dean of the Carlson School of Management at the University of Minnesota on March 8, 2012.
During her tenure as dean of the Carlson School, Sri launched a Military Veterans Initiative to help servicemen and women transition from military to business careers, has increased the business community's engagement with the school which has resulted in myriad new experiential learning opportunities for students, and has overseen the introduction of several new programs including new master's programs in Business Analytics, Finance, and Supply Chain Management.
Sri joined the University in 1991 as an assistant professor and held a variety of roles prior to becoming dean, including serving as the PhD coordinator in the department of Strategic Management and Entrepreneurship (SME), department chair, and associate dean of faculty and research, where she was responsible for faculty in seven academic departments and the school's research infrastructure.
Sri holds the Elmer L. Andersen Chair in Global Corporate Social Responsibility and her research focus is on international business—a topic on which she has published extensively, and work that has been honored by such organizations as the Academy of International Business and the Academy of Management. She is a Fellow of the Academy of International Business, and a former Consulting Editor of the Journal of International Business Studies.
Prior to academia, Zaheer worked for multinationals such as Tata Consultancy Services and Sandoz (India) Ltd. She also reported on politics and business from India and Nigeria for Business International. These experiences provided the foundation for her research in international business, as well as leading the Carlson School's engagement with the corporate community.
Sri serves on the boards of the Graduate Management Admission Council (GMAC), Greater Twin Cities United Way, and the Federal Reserve Bank of Minneapolis. She previously served on the boards of the Guthrie Theater and Destination Medical Center Economic Development Agency in Rochester, Minnesota.
In 2013, the Minneapolis/St. Paul Business Journal honored Sri's professional achievements, leadership qualities, and contributions to the broader Twin Cities community with its Women in Business Award.
PhD, Sloan School of Management at MIT
MBA, Indian Institute of Management in Ahmedabad
B.S. in Physics, Women's Christian College, Madras University
Last Updated: October 2017