AIB Fellow - Udo B. Zander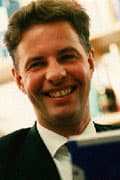 Udo Zander is the Ragnar Söderberg Professor of Business Administration at the Stockholm School of Economics (SSE) in Sweden. He was recently elected Member of the Royal Swedish Academy of Engineering Sciences and of the Royal Swedish Academy of Sciences.
His research interests are international management (including strategy, organization, change and learning in the multinational company), knowledge and the theory of the firm, and the power of ideas. He has published in journals like American Sociological Review, European Management Review, Journal of International Business Studies, Management International Review, Management Science, and Organization Science.
His academic background includes studies at the Stockholm School of Economics (M.Sc. 1986; Ph.D. 1991) and as a Fulbright Scholar at the University of California, Berkeley (IB/OB 1986-87) and Stanford University (OB 1987). He has been visiting professor at Stanford University (1994), at The Wharton School at the University of Pennsylvania (1995), and at Victoria University of Wellington, New Zealand (2007-2009).
In 2003, Udo came to California to serve as Program Chair for AIB's Annual Meeting in Monterey, 15 years after he was introduced to AIB by the late Professor Gunnar Hedlund at the Meeting in San Diego.
Udo has taught International Business at the undergraduate, graduate, and executive programs at SSE and the Wharton School. Udo has also worked with students and executives in Austria, Belgium, the Czech Republic, England, Finland, France, Germany, Hungary, Iran, Italy, Latvia, Lithuania, Malaysia, New Zealand, Norway, The People's Republic of China, Romania, Russia, South Africa, Spain, Switzerland, Thailand, and Turkey.
Last Updated: March 2011