AIB Fellow - Marjorie A. Lyles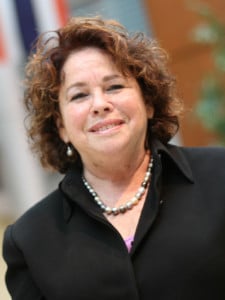 Marjorie A. Lyles is International Business Distinguished Research Fellow at Florida International University, the Department of International Business. She is a Chancellor's Emeritus Professor at Indiana University Kelley School of Business. She has an Honorary Doctorate from Copenhagen Business School. She is currently the Incoming President of the Academy of international Business, and will become president on August 1, 2019. She also served as President for the Strategic Management Society.
She was founding Director of the Indiana University Center on Southeast Asia. She has been an Invited Scholar and consultant to the U.S. Department of Commerce in the Peoples' Republic of China. She was a visiting scholar in Thailand at NIDA, at the European Institute of Business Administration (INSEAD), the Universiti Sains Malaysia, and the University of St. Gallen (Switzerland). In fall 1997, she was the Arthur Andersen Distinguished Visiting Professor at Cambridge University (England). She has a Ph.D. in Business Administration from the University of Pittsburgh and a B.S. from Carnegie-Mellon University.

She has consulted with government agencies and firms interested in knowledge management, joint ventures/alliances, technology development and transfer, and higher education. She has consulted with USAID in Indonesia on higher education development. She received two grants from USIA to evaluate foreign direct investment and joint ventures in Hungary and Malaysia. On a UNDP project, she assisted the development of Technology Park Malaysia and was involved in executive training on technology management. In Hungary, she worked with the Hungarian Blue Ribbon Commission and USIA on evaluating the health of the private sector and knowledge transfer from foreign firms. She has had two NSF grants to continue her research.
She is currently an Area Editor for JIBS and has served on the editorial boards of the Academy of Management Review, Academy of Management Journal, Strategy Management Journal and the Journal of Management. She is listed in Outstanding Young Women in America and Who's Who in Finance and Industry.
Last Updated: February 2019