AIB Fellow - Elizabeth Rose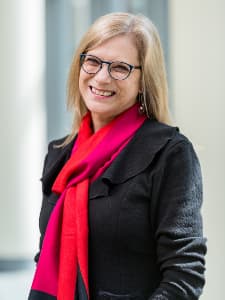 Elizabeth L. Rose is Professor of International Business at the University of Leeds. She is also a Visiting Professor of International Business at the Aalto University School of Business (Finland) and an Adjunct Professor of Business Policy and Strategy at the Indian Institute of Management Udaipur (India). A dual citizen of New Zealand and the United States, her previous academic appointments have been in New Zealand, Finland, and the U.S. She holds a BSE (Civil Engineering) from Princeton University and an MSE (Civil Engineering), an AM (Statistics), and a PhD (Business Administration, emphasis in Statistics and Management Science), all from the University of Michigan.
Beth's research addresses various aspects of how firms internationalize and compete across borders; she works at the intersection of international business and strategy. She has ongoing interests in the internationalization activities of service-sector and smaller firms. Not surprisingly, for someone who started her academic career as a statistician, most of her research is quantitative in nature, and emphasizes the use of robust approaches in modelling. Beth's work has appeared in a variety of top-tier journals, including the Journal of International Business Studies.
Beth has held leadership roles in several academic professional organizations. She served as an AIB Vice President for Administration, where she had the great pleasure of working closely with AIB chapter chairs from around the globe. She was the founding chair of the AIB's Australia and New Zealand Chapter (AIB-ANZ), and is a past President of both the Australia and New Zealand International Business Academy (ANZIBA) and the Association of Japanese Business Studies (AJBS). She has also been Chair of the Strategic Management Society's Global Strategy Interest Group. Beth has chaired the Research Committee of the Academy of Management's International Management Division, and is now a member of the Division's Executive Committee.
Last Updated: July 2018