AIB Fellow - David Reeb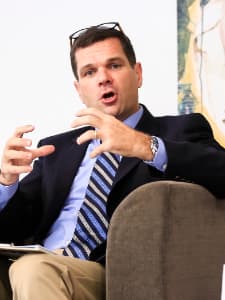 David Reeb is a Professor of Finance and holds the Mr. and Mrs. Lin Jo Yan Professorship in Banking and Finance at the National University of Singapore. At prior positions, he held appoints in various departments including accounting, international business and strategic management. Dr. Reeb's research interests range from founding-family ownership to the properties of global innovation, spanning deceptive trade practices in financial intermediaries to diversity in the workforce. He holds a PhD in International Finance, a joint program of the departments of finance and international business at the University of South Carolina.
Over the past several years, his work has appeared in some of the most influential academic journals in business and economics, including Administrative Science Quarterly, American Economic Review, Journal of Accounting and Economics, Journal of Finance, Journal of Financial Economics, Journal of International Business Studies, Journal of Law and Economics, and The Accounting Review. This research generates numerous academic citations (2000+ in Web of Science and 9,000+ in Google Scholar) and has been featured in the Wall Street Journal, BusinessWeek, The Economist, Forbes, the Financial Times, the International Herald Tribune, MSNBC, CNN, Bloomberg TV, and numerous other newspapers and business magazines. He is a Senior Fellow of the Asian Bureau of Finance and Economic Research (ABFER) and the Director of Research at the Centre for Asset Management Research and Investments.
Professor Reeb has served the AIB in several areas: Two terms as the Accounting and Finance Editor at the Journal of International Business Studies (2010-2013; 2013-2016), the 2014 Mid-Career Consortium Chair (Vancouver), and as a JIBS Development Workshop Mentor (5 years). He first began attending the annual AIB meetings in Seoul, South Korea in 1995.
Last Updated: March 2016